Our clients are always asking how they can increase their social media presence to gain more exposure. Given the number of clients we're responsible for, it can quickly become overwhelming to add content creation to our list of daily tasks. We've found creating a social media calendar helps us visualize all planned posts for the next weeks or months ahead. Furthermore, having a consistent social media calendar alleviates some of the stress that comes with trying to figure out what to share on social sites. Follow along as we share a few tips on how we create successful calendars for a variety of clients.
Create Content Categories
Having a list of categories you can lean on when creating content can help make the process less painful and keep your social feeds consistent so followers know what they can expect from you. Some examples of categories include: blog post shares, quotes, expert tips, promotion, announcements, events, product features, re-sharing interesting and relevant news articles, etc. The categories can essentially be as broad or narrow as you would like, but they should consist of post types you would like to share on a regular basis.
At Oswego Creative, we create 3-5 content categories for each client based on who we are trying to reach, what information we are wanting to share, and the tone or feel of the client's social media pages. For example, the content categories we use for Oswego Creative social media pages are:
Our Work – This includes our finished videos for different clients, still images from the videos we have created, and behind-the-scenes of our creative process.

Our Team – This could be anything from employee spotlights to birthday shoutouts.

Our Skill – We like to include editing tips, posts about our new blogs, any other video production tips, and digital marketing / social media tips.
Take Note of Special Events / Holidays
Planning your social posts ahead of time for special events and holidays assures that you won't miss them and that you can create as much excitement around them as possible! When we say "special events" we mean things like product launches, important company announcements, or any meetup events you may be hosting or attending. Make sure to highlight these special events on social media in order to keep your audience informed.
In addition, knowing what days important holidays land on can prevent you from posting important content on days that may be overshadowed by a slew of holiday posts. During this time of year especially, the holidays can overwhelm even the most organized person. When the stress of the holidays spills over into your work, your stress continues to pile up which isn't good for anyone. If there is a holiday that is relevant to your industry, you can include a post for that holiday within your content calendar. We have created a Holiday Calendar that includes all the important holidays for the entire year so we can refer back to it as we create new content each month.
Write As Much Content As You Can
Once you have your content categories figured out and you are aware of the specific dates of special events and holidays, it is time to start creating your content calendar! We suggest trying to create monthly batches of content if possible. This means at the end of December, you already have the monthly content for January planned out. Utilizing your categories, you can, for example, plan for a post about your blog every Monday, share industry specific tips on Tuesdays, create article re-share round-ups on Thursdays, share quotes on Saturdays, and any promotional posts can go up on Sundays. You can obviously alter these days / topics to fit your categories and vision for your social media.
At Oswego, we plan all of our client's social content, including our own social posts, in the week leading up to the final week of each month. We then finalize everything in that last week of the month and schedule it all before the next month starts. Below, you can see what our social media calendar looks like, both the weekly and monthly view, for our client IBEW Hour Power: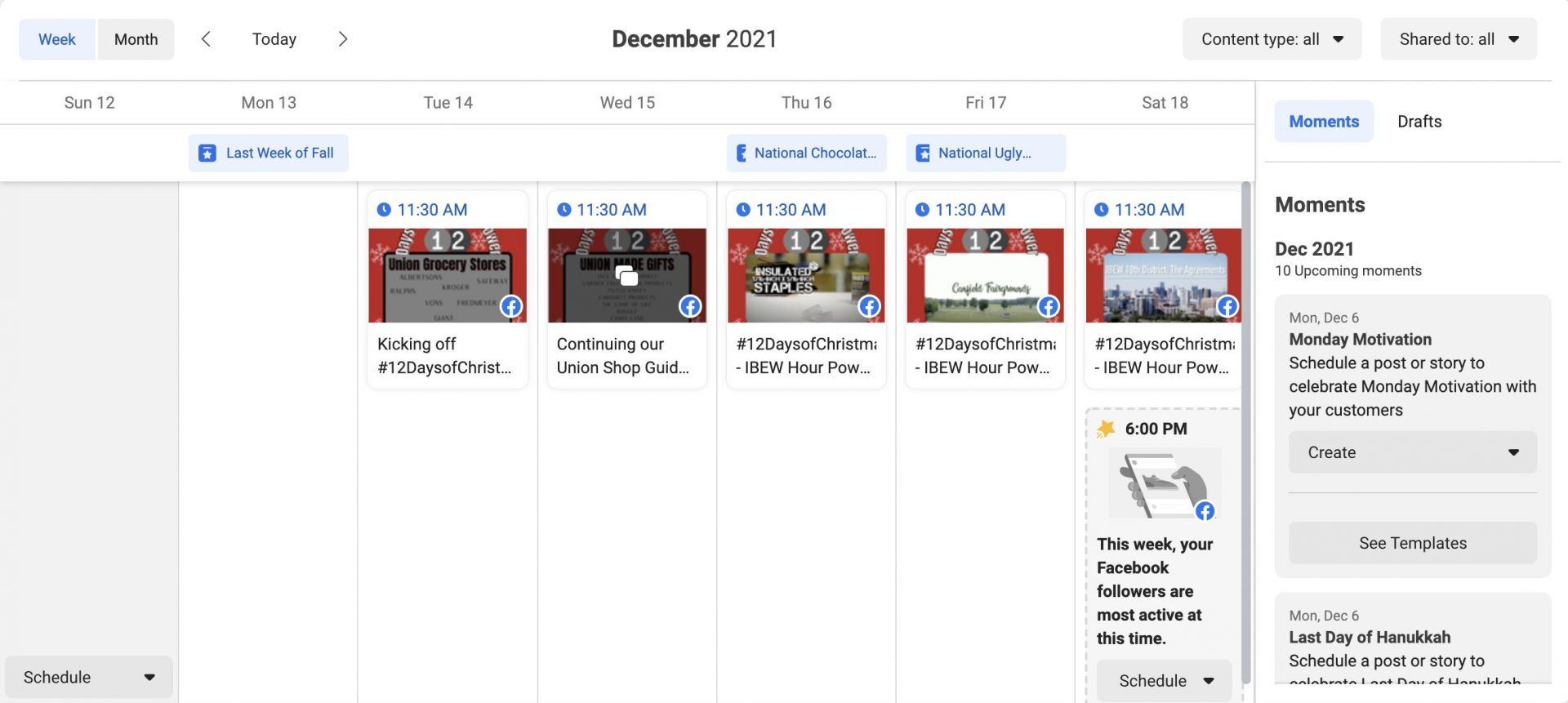 Calendar Templates
Fortunately, there are plenty of social media calendar services and templates available for you to use. As you can see from the images above, at Oswego we like to use the Facebook Business Suite as much as possible for scheduling Facebook and Instagram posts. We also utilize Later, a social media calendar planning platform. If you are looking for a cost effective way to create a social media calendar, consider creating an excel or google sheets document. Using excel or google sheets is great for keeping all of your planned posts, for all social media platforms, in one place for your entire team to refer back to.
If you are willing to spend some money, you can opt for a subscription based social media calendar platform where you can plan, schedule, and publish posts all in the same place. Some examples of social media calendar platforms include SproutSocial, Hootsuite, Later, and Loomly. If you are considering buying a social media calendar and publishing platform, we suggest doing some initial research about the different benefits and pain points of the many platforms available.
Track / Evaluate
Once you have your social media calendar established and you have gotten into a consistent posting rhythm, it is important to track and evaluate the performances of your posts. In order to do this, you must first establish a goal, or a few goals, you are trying to achieve through posting social media content. Remember, if you can't measure it, you can't manage it. This is a powerful quote that is very important to the evaluation (internally) and value proposition (externally) of a company.
For Oswego clients, we generally focus on video views, post reach, and post engagement in terms of likes, shares, and comments. Once a week we check on the Facebook and Instagram insights to see how our client's posts did that week, what didn't do well, and how we can improve moving forward. We also produce a more in-depth monthly report of the important social media insights and analytics including which posts produced the most engagement, if our page reach increased or decreased, what our followers didn't like, and how much traffic each social platform brought our clients.
Remove Stress and Maintain Consistency
Creating a social media calendar may seem like a daunting task, but it will ultimately remove stress from your day to day life and it will help you stay consistent in your posting frequency. Consistency is truly your best friend when it comes to social media and building / maintaining an audience. Furthermore, having a social media schedule gives you more time to prepare for what is coming up and figure out what posts are working and when your audience loses interest. Not to mention, having a consistent schedule will free up more time for you to analyze which content is working best, what times and days are seeing the most engagement, and more.
Now, don't get us wrong, a social media calendar will not automatically take care of all your social media needs. Social media management is a full-time job within itself! However, if you need extra assistance managing your social media, and a social media calendar just won't do, Oswego Creative is eager to help. We have a team of digital marketing experts ready to perfect your social media presence and get your content in front of the right audience.